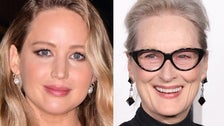 Streep's co-stars took to calling her the GOAT (aka the acronym for Biggest of All Time), Lawrence advised "Late Present" host Stephen Colbert.
When Lawrence used the time period throughout a photoshoot, Streep responded: "Yeah, that's proper. Simply inform the previous goat the place to go."
A stunned Lawrence then clarified what the time period meant.
"I used to be like, 'Meryl, you recognize that GOAT means biggest of all time, proper?'" she recalled.
Streep confirmed she didn't, and Lawrence let her know: "We haven't simply been calling you goat … this entire time."
Watch the interview right here:
"Don't Look Up" debuts on Netflix on Dec. 24. Watch the trailer right here: